From Equipment Evaluations and Implementation to On-going Site Support
A non-disruptive on site Total Coolant management program can be implemented and tailored to suit each customer's requirements. Education of your people ensures best practice methods are followed as well as providing operators a sound understanding of diagnoses of all types of cooling system related problems. We provide both hands on and in class room training modules. Our goal is to put the power back in your hands.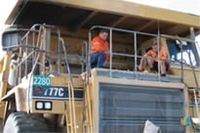 Ongoing training, onsite equipment audits and technical support is only a phone call away. Ongoing coolant sampling programs are also available via a state of the art multi million dollar engine coolant laboratory.
Contact us for more information.