From Equipment Evaluations and Implementation to On-going Site Support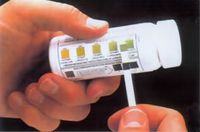 On site testing can be conducted by using simple GO, NO-GO paper CoolTrak test strips.  This is a simple way of establishing coolant concentration and/or glycol levels at each equipment's scheduled service interval. More accurate methods are available using our specific range of refractometers. Procedures for correct use are available from Total Coolants on request.
Contact us for more information.