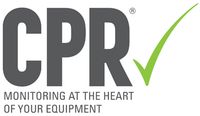 Total Coolants provides, unlike any other, a true Total Coolant management solutions package providing a comprehensive sampling and testing program via a state of the art multi million dollar specialised Engine Coolant Laboratory. With the Total Coolants' online CPR coolant management program we can test all types of coolants and coolant brands, from identifying under and overdosing, corrosion issues, contamination, visible oil, hard water use, seal and hose degradation and the types of wear metals evident in a given sample.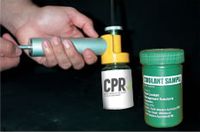 Our programs provide a true coolant preventative maintenance program which delivers increased life expectancy of your engines and less unnecessary downtime.  Full action reports as well as management performance reports by each site location are provided enabling visibility giving you accountability and control at every level.
CPR Coolant Analysis Program and Testing
Coolant samples are drawn down from a piece of equipment/engine periodically and sent to the laboratory where a detailed analysis of the coolant is conducted right down to wear metals. Individual reports are produced by equipment ID and provided electronically to the supervisor/s aiding them in identifying equipment needing to be actioned or monitored ultimately preventing premature engine failures and unnecessary downtime.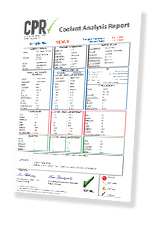 Equipment results are trended and a range of management reports by equipment or by site are provided. These reports highlight coolant management practices which allows total control and monitoring of your coolants, equipment as well as practices no matter how large or small your fleet is. Our aim is help give you the tools to put the management back in your hands.
For more information on our programs and how they can benefit your operations and your equipment, please contact us.